The Well-Mannered Dog, Inc.
165 Deer Hill Road
Southbury, CT 06488
tel:

203.264.2008
631.300.5868
email: Toni
In

Connecticut

serving:
Litchfield, New Haven, and Fairfield counties

Including:
Including:
Bethel, Bethlehem Bridgewater
Brookfield, Danbury
Greenwich, Riverside
Darien, Westport
Weston, New Canaan
Newtown, Norwalk Oxford
Ridgefield Roxbury
Sandy Hook Washington
Woodbury and surrounding areas
In New York serving: New York, Westchester
including Armonk, Bedford, Goldens Bridge
Mt. Kisco, Chappaqua
White Plains and surrounding areas
And we thought whe wasn't paying attention!!! She's been writing everything down! This is what she wrote today!!! Future dog trainer! It's what she wants to be when she grows up!!! Thanks!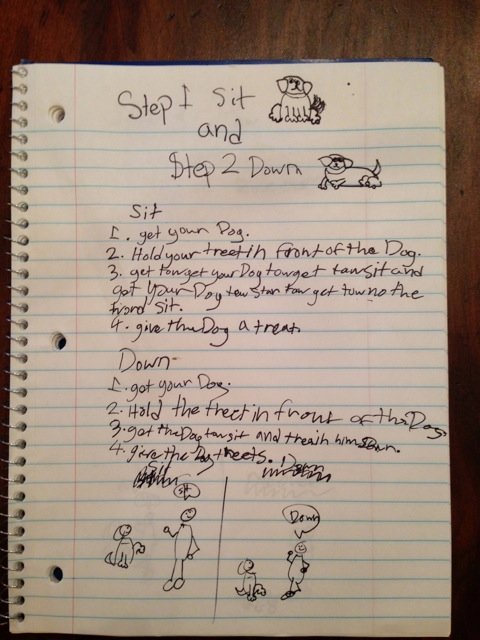 Barb Tarpey
...and daughter.
Thanks for an awesome session last night and getting (my husband and daughter) to be active participants. We have a bunch of Zukes in the house and practicing started!! You are amazing to watch in action! Thanks for getting us on the right track. Best regards,
Michelle
dog parent in training...
Reilly is doing fine with the storm and we've had a really good week. He is learning his commands and doing well with them -- nothing's perfect but we're a huge step from where we were two weeks ago. Getting in touch with you was one of my best decisions of this year.
Jenny
Southbury, CT
Dear Toni - The after effects of our session with you yesterday are remarkable. Lee is so much more confident and comfortable and Stella is being such a good puppy. She really seems to have absorbed all the lessons, including the ones from playing with the other dogs. I'm really enjoying the long lead, I've looked everywhere for one of these and yours is perfect! Many thanks for all your help - I'll talk to you soon-
Victoria
Newtown, CT
Hi, Toni. Beau and I wanted to thank you for all of your work with Honey these past three weeks. What a wonderful result! A month ago... although we loved her dearly, the clear aggression-nipping, biting, barking, disobeying- deeply concerned us. We reached the point it was imperative to have an behavior intervention. Our entire family is happy to report that she has emerged a different dog. As of now, we have only seen two or three instances since her return of her nipping. Furthermore, she is now a relaxed, well-adjusted dog who has learned her place in a family with four children. She appears happier and more at-ease. Before "Camp Toni", my three year old daughter would walk into the room, Honey would consistently nip at her to the point we felt they could not even be in the same room-even with supervision. Now-when my daughter will walk into the room-she will either look at her curiously, or ignore her altogether. Last night, Honey came and sat in her lap! We never thought we would see the day... Clearly, your efforts and diligence in Honey's training were critical in her success. We are extremely grateful and look forward to enjoying our pup this summer!
Beth Taylor
...presents the image and poise of a knowledgeable trainer. She has a caring, "well mannered" approach to training using good common sense and patience with her clients. I would recommend Toni to anyone in need of a good trainer, whether for their pets or themselves.
Jonathan Greenfield, DVM
Host of "The Family Pet"
There are many things I appreciate about Toni's work but perhaps the thing I notice most is her constant search for ways to make it easier for the dog to learn. She always has the dog's best interests in mind. She is a terrific trainer!
Sarah Wilson, Author of "Good Owners, Great Dogs", "Childproofing Your Dog" and "My Smart Puppy"
Toni Kay gets the job accomplished. If she can't do it, she'll tell you why and find an alternative way to enjoy the dog.
Lewis H Berman, DVM
Director Park East A.H., NYC, N.Y.
Toni let us know that we would get out what we put into training. As far as we are concerned, everything is paying off.
Sheila and David Smith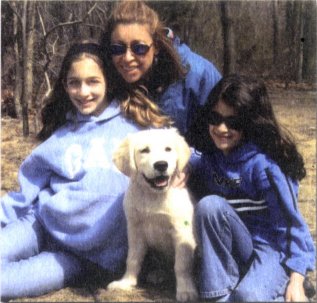 Toni Kay-Wolff is an outstanding trainer in every way. We did our research, and we couldn't be happier.
Jane and Scott Weinmann
Your professionalism and expertise are invaluable. Your ability to help owners learn how to create a bond with their dogs is something that cannot be replaced.
Maggie and Gino Stanco, Long Island, N.Y.